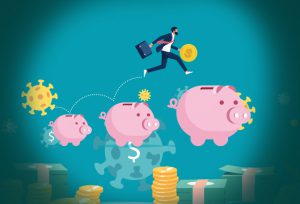 2020 had seen a massive hit to the economies of every country across the globe, due to the pandemic caused by the novel coronavirus. This lead to a lot of business delays for already existing companies, as well as new ones. A number of businesses that were all set to open up and commence operations in 2020, has a prolonged delay for about a year and a half before they could go all out.
2021-22 is the start of a new era, since due to the hard work of a number of scientists, doctors and other professionals, we finally managed to produce a vaccine to defeat the coronavirus. That being said, businesses are up and running again and the ones that had to wait for the many months when covid-19 was rampant, have finally been able to start and set up shop.
If you're amongst those who had to delay the commencement of your start-up due to the pandemic, you may be looking for loans to help cover your losses that came with it, and to be able to re-invest in your firm.
But, what's the best option for start-ups to borrow money from?
2020's Impact on Start-Ups
If you were all set to set up your business in the year 2020 but had to wait for the covid-19 battle to get over, you may have had to go through quite some loss with the hope that your business would bounce back once all the hassle was over.
In order not to lose out on your efforts, you may have looked at the long-term goal of your business, which is why you may have decided to still pay rent for your office space in order to avoid losing it, continue paying the people you hired even though at a fairly subsidized rate, and you may have continued to work on your future plan for your business which may have cost you some money to say the least.
However, at the end of the day if your company was running in losses, it could be difficult for you to get a loan from a traditional lender as the credit score or financial stability of your firm may seem dicey. Even though having to halt during the pandemic was the only option available to all, it may still seem bad on your records.
In order to continue running your firm, you may need money from a lender for you to get things back on track. Even though majority conventional lenders may choose to not help you, you can now rest assured that an online loan lender like us shall be happy to assist you financially.
Small Business Loans for Start-Ups
You can certainly receive a loan from an online business loan lender without hesitation, since they know and understand your concern and are well-aware of how terribly the SARS Covid-19 pandemic has affected businesses across the globe.
If your request for a loan is continuously being turned down by various lenders, you can be confident about the fact that there are a number of online business loan lenders who shall be happy to help. Your reason for being turned down may be that you have a bad credit rating, but considerate online business loan lenders shall give you an opportunity to receive a loan from them, despite that.
As long as you can prove that you have a stable way of generating revenue, most online business loan lenders shall agree to fund you. Also, you don't have to provide collateral in order to get a loan from them, which is undoubtedly a plus point.
What's more, you can apply online at a time that's most convenient to you, without having to spend a day at a bank, which can help you concentrate on your business rather than on a loan application.