Businesses experience unpredictable situations ever so often. Recent times, if anything, have only been a true testament to this reality. Some situations call for an urgent need of funds, and some requirements are simply too little for a full-fledged financing plan in the form of a traditional or an alternative business loan. In such situations, many business owners face the dilemma of choosing between a micro business loan and a small personal loan, in order to fulfill the financial requirement of their business.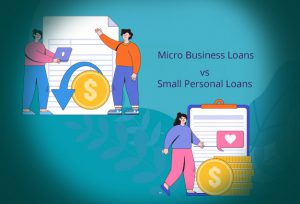 Both micro business loans and small personal loans can provide funds quickly, but in many different situations, one option can be better than the other. Typically, the scale would tilt in favor of micro business loans, but since not all situations are alike, we believe it is a good idea for a decision-maker to understand the differences, so it is more likely that any decision made, is an informed one.
What is a Micro Business Loan?
A micro business loan is a type of micro funding, or a small-amount, short-term loan for businesses that typically gets approved easily, but comes with a higher interest rate. Businesses use micro loans as a short-term financial instrument and it provides the added advantages of no collateral needed, low duration liability and less total accrued interest compared to longer tenure loans with similar risk quotients.
Many small businesses today, consider this type of a loan as the go-to solution for times when they need a small amount of funds for a short duration of time. However, there is another type of loan that business owners often consider for similar situations.
Why Do Some People Use Small Personal Loans for their Business?
Small personal loans from non-bank direct lenders work much like micro business loans. When you choose a small personal loan for funding small financial needs of your business, as long as you qualify for the loan, you can get funded with ease and since there are no questions asked about the use, the funds can be used towards one's business too. Here are some common reasons why some business owners choose to use small personal loans for their business:
Ineligibility for business loans
More trust on a previously used lending service
Possible acceptance of poor credit scores without any credit check
Lack of the required documentation needed for a business loan
Lack of knowledge about micro business loans
Lack of awareness of the drawbacks of using personal loans for business needs
What's Common in Both?
A micro business loan and a small personal loan from a non-bank direct lender often have some common qualities, which lead to some borrowing businesses facing a dilemma of choice. These may include:
Lenders of either loans may accept all credit scores
Lenders of either loans may accept previously rejected borrowers
Both loans are easy to apply for
Both loans tend to be processed quickly
Both loans can be made available without hard credit checks
Similar loan amounts and tenures may be offered
Advantages of a Micro Business Loan over a Small Personal Loan
When available as an option, there is no doubt that a micro business loan is a better choice for fulfilling a small short-term financial need of a business. This is because:
Micro business loans typically feature lower interest rates
More flexible repayment options are offered
Similar loan offers may be available across most locations
Section 179 tax deduction benefits can be obtained
Advantages of Small Personal Loan over Micro Business Loans
These benefits make small personal loans a viable option for some borrowing business owners:
They are likely to be easier to qualify for
More lenders offer small personal loans
Some lenders may agree to process loans with no credit checks whatsoever
When to Avoid Using a Personal Loan for Business
There are 4 scenarios in which a business owner must certainly refrain from choosing a personal loan for managing a short-term financial need of the business:
When the business or your personal finances are nearing bankruptcy: When nearing a bankruptcy either in terms of the business or personal finances, any loan product should be avoided as a general rule. Credit and/or financial counseling may help manage the situation better than a loan would.
When personal liability is likely to be a major problem: A personal loan simply means personal liability. While business loans may also seek personal guarantees, it is important to note that the extent may vary and that the way it works in both cases, may differ. If personal liability is likely to be problematic in some way, any decision for a loan should carefully be understood and scrutinized before a decision is taken.
When a micro business loan is available and your business qualifies: Typically, the reason to choose a small personal loan over a micro business loan, is due to ineligibility for or unavailability of the latter. But when the latter is a realistic option, it's very likely to be the better option.
When already in debt of a micro business loan: A lender of personal loans may not be able to verify whether or not a business owned by the borrowing individual is in debt of a micro loan. However, the individual must not in such a case, get drawn towards taking a small personal loan with an intention to use it towards the same business, as this is likely to be a decision that leads to a downward spiral, given the burden of the two rather expensive loans.
Get a Micro Business Loan
Having understood the advantages of micro business loans over small personal loans with respect to use in business, you may now wish to proceed with applying for one. At Business Advance Lenders, we provide quick micro business loans with flexible payment options. We can also skip the hard credit check in certain circumstances. To apply for a loan, simply fill in the form alongside and our team shall begin work on offering you a loan that suits your needs. For further information, check out our Micro Business Loans page.