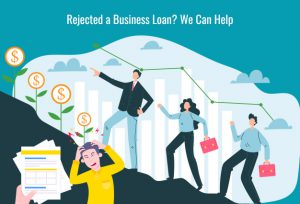 Getting declined a business loan is not a very rare occurrence. If you've applied for an SBA or a bank loan for your business, statistics indicate that your chances for loan approval – depending upon the location and industry of your business – is likely to vary from 20% to 70%. This means, there are 30% to 80% chances that a business loan application fails to materialize.
While a loan rejection may simply translate to a missed opportunity for some businesses, for others it may lead to financial shortcomings and even major financial trouble, including even a significant hit on the credit performances, and further loan rejections. However, depending upon the eligibility of your business, there may be a way in which your business can still get a loan reliably, despite having faced loan rejections.
What can Lead to Loan Declinations?
While many factors can cause a loan to get declined, the most common ones are:
Excessive debt: If the ratio of debt to income is high, it is very likely that your loan request gets rejected
Poor credit performance: Bad credit scores (both business and personal) often loan to loan rejections
Insufficient collateral: Traditional loans require collaterals and if ascertained value of collateral provided isn't sufficient to cover your loan, it's interest and the cost of recovering the collateral value, it is likely that your loan will be rejected
Limited credit history: When the credit history is insufficient to make decisions, loans can be kept on hold or even declined
Bad performance: If the operating figures of a business are indicative of poor or declining health, loans are likely to be declined
What Poor Credit Could Lead To
Bad credit scores are certainly no good news for a business or an individual. But apart from making loans very difficult and expensive to secure, bad credit scores also cause further damage to businesses in many ways. These often include:
Difficulty in finding suitable real estate options on rent/lease
Rejection of credit from suppliers
Higher insurance premiums
Reduced growth opportunities
Severed business reputation and relationships
How Alternative Business Loans Can Help You
If you've faced rejection from a traditional business loan lender – be it a bank or an SBA loan lender, chances are that the best option you have, is an alternative business loan. Alternative business lenders can, at their discretion, accept loan application from a business that is having a troubled credit history. Typically, short-term loans are offered, limiting the risk by approving loans of accordingly limited amounts, subject to a personal guarantee. An alternative business loan can help:
Your business get funded despite past loan rejections
Your business work towards a credit performance improvement
You secure funds when facing a financial emergency
You sail through a challenging season
Your business with funds that help it grow and improve its financial performance
Here are two common business loan types often offered by alternative lenders, aimed to address the issues frequently faced by businesses that have been rejected a loan:
Second Chance Business Loans
If you have faced a loan rejection once, it would already feature on your credit report and there are very high chances a second loan application by you, would also be declined, unless you choose a reliable alternative lender, offering a second chance business loan. As second rejection from yet another traditional lender, is likely to permanently harm your credit performance, and it is typically very hard to recover from such damage.
The type of loan that is specifically designed to accommodate such borrowing businesses, are often termed as second chance business loans, and these are made available subject to verifications and terms that are independent of past loan rejections.
Business Loans for Bad Credit
Whether or not you have been rejected a loan, a bad credit score is very likely to lead to loan rejection when you choose a traditional lender. That can further dent your credit score. So, if you need a business loan while you suffer a bad credit score, a safe way could be to choose an alternative lender that offers business loans for bad credit.
Get a Business Loan despite Past Rejections
If you have a bad credit score or need a second chance on a loan due to a past rejection, you're at just the right place. At Business Advance Lenders, we work to ensure that our loan eligibility terms don't rely primarily on credit performance. Instead, we offer collateral-free business loans which can accommodate bad credit scores as well as businesses that have faced loan rejection in the far or recent past. So, simply apply with us and our team shall work with you on a loan that is likely to suit the needs of your business.